It's 6:30 p.m. on a school night, and you're settling in your chair to get some work done. You graciously dump your heavy backpack on the ground and pull out your notebooks. Wow, it doesn't look like you have much homework tonight!
Probably. You wouldn't know. All of your homework and assignments and things you have to get done have started to amalgamate in your head into one big, chaotic, stressful pile.
Does this sound like you? We're not judging. Keeping track of all the terrible, daunting tasks you have to do is hard— we get it. And we're here to help.
We've compiled a list of 5 productivity trackers for you that might just kick procrastination out the window, and get you started on that long, long, to-do list.
5. Good ol' Google Calendar
With cross-platform syncing and a minimalistic, comprehensive layout, Google Calendar is a classic we wanted to give a shout-out to on our list.
Though it might lack in luster, it's functionality makes up for it in spades. Google Calendar also features a schedule section that allows you to plan your day down to the minute! How's that, english homework?

User Interface: 4/5
Design: 4.5/5
PBI (Procrastination-Buster-Index): 3/5
Overall: 3.8/5
Our Verdict: Though we think there are better options, you can't go wrong with Google Calendar!
4. Momentum
Momentum has recently risen up the ranks of awesome Google Chrome extensions because of it's simplistic yet stylish design.

Momentum is a lovely new-tab extension that opens up whenever you click a new tab. With permission, it recognizes your area and gives you a live weather update in the top right corner. Nifty!
Your actual to-do list is in the bottom right corner, which opens up if you click on it. There currently aren't any ways to sort or tag specific tasks, which may put a damper on your productive assignment-finishing spree.
Possibly the most defining feature of Momentum is the clock in the center of the page, and the beautiful, inspiring background images that change every day. On the bottom of the page, there is an inspirational quote that also changes daily. Nice going with the encouragement, Momentum!
You're also able to bookmark specific pages for ease of access in the top left corner. Overall, Momentum is a pretty strong contender when it comes to productivity trackers, and with good reason!
User Interface: 3.5/5
Design: 5/5
PBI (Procrastination-Buster-Index): 3/5
Overall: 3.8/5
Our Verdict: Momentum is a beautiful productivity tracker that aims to inspire! If you're looking for productivity, though, this might not be what you're looking for.
3. My Study Life
My Study Life has remained pretty popular among students for how useful it is. It has scheduling features, including rotation days, which allow you to automatically fill out your schedule!
As there is with any planner, you can create certain tasks that correspond with certain classes, plan out their deadlines, and indicate what percentage of the task you're done in order to properly manage your time.

There's also an option to plan out incoming exams and see everything on a colourful, well organized calendar.
User Interface: 4.5/5
Design: 4/5
PBI (Procrastination-Buster-Index): 4/5
Overall: 4.2/5
Our Verdict: My Study Life is a super convenient tool for students that will definitely get you on track to conquering your studies!
2. Lanes
A definite team favourite, Lanes is also a super beautiful yet simplistic productivity tracker that's also super personalizable, a problem we had with Momentum. As well, compared to Momentum, there seems to be a lot more functions, such as the ability to create different categories to file tasks under, as well as colour coding them to organize them.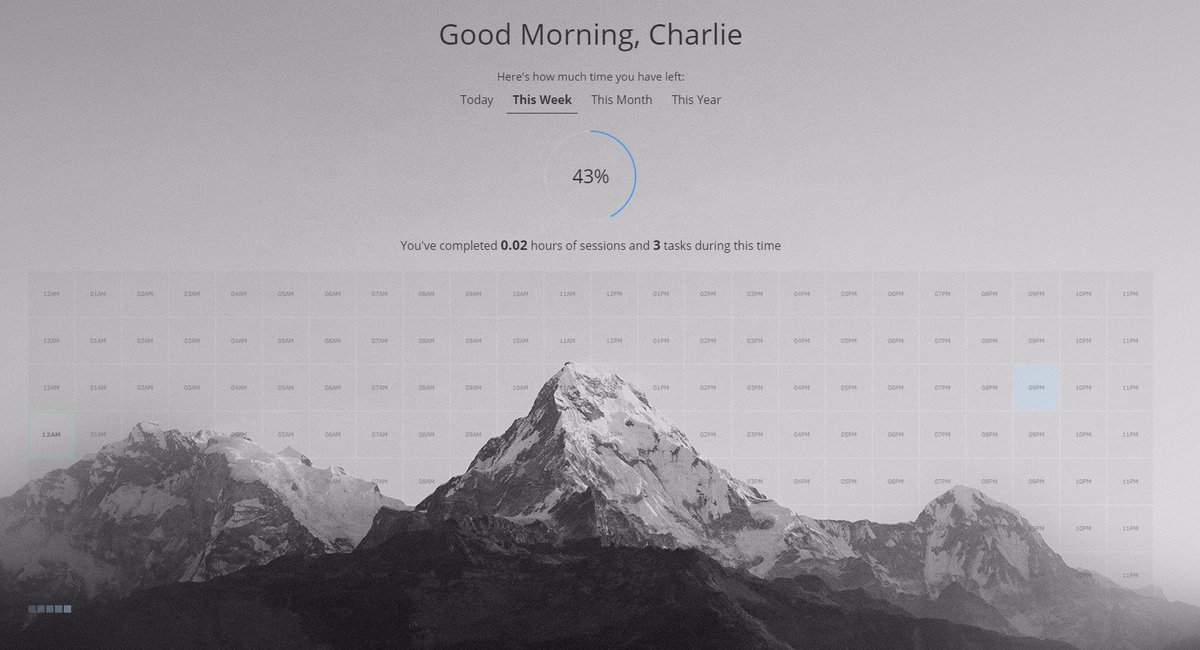 You're also able to use the built-in Pomodoro timer (check out the science behind it here) to maximize your time and be the most efficient.
Lanes gives you options of staff-curated backgrounds or the choice of your own, which helps to make the chrome extension feel a lot more suited to your own needs.
As of recently, there have been a lot of new features added, such as long-term goals with tips and organization. Unfortunately, many of these features are only accessible with a paid membership. However, Lanes is still extremely functional without these extra bells and whistles.
User Interface: 4.5/5
Design: 5/5
PBI (Procrastination-Buster-Index): 4.5/5
Overall: 4.7/5
Our Verdict: We totally recommend Lanes to bust your procrastination problems!
1. Habitica
Remember those times when you used to play on your Gameboy? Habitica takes you back to the good old days with its retro graphics and cute character designs.
Habitica is like any old productivity tracker, but instead attempts to 'gamify' your life with a reward/punishment system. There's a whole bunch of science behind it, and if you want to read more about Habitica's purpose, check it out here. Basically, the way this works is you get four different sections: Habits, Dailies, To-do's, and Rewards. When you're productive and get a lot done, you get gold and experience. If you shirk your work, then your character is going to lose health.
You can also collect pets!
There's also a super awesome social aspect, in which you can invite friends to your party and beat up productivity-sucking monsters together! It creates some nice, friendly competition that should help get your productivity shooting through the roof!
Though Habitica doesn't seem to be as popular in terms how beautifully designed it is, it's got a real cute charm that makes it super fun to use.
User Interface: 4.5/5
Design: 5/5
PBI (Procrastination-Buster-Index): 5/5
Overall: 4.8/5
Our Verdict: Habitica is a super cute cross-platform program that will definitely get you steamrolling through all your assignments!
Bonus: Lagom
We're not finished yet! All these productivity trackers with all their nitty-gritty details might have you overwhelmed, and some of you might prefer simplicity over functionality anyway.
Introducing Lagom, a chrome extension that tells you the date, time, and weather and allows you to search the web. The bonus? It's got a beautiful layout that changes every day!
For those of you that are interested in getting more productive but have trouble committing, Lagom might be a good place for you to start!
---
Jessica Le
Creative Director